WELCOME TO GEORGETOWN LADY EAGLE BASKETBALL
On Being A Lady Eagle
Being a Georgetown Lady Eagle is a privilege…a legacy…an indentity. Lady Eagles pursue excellence to honor the heros that have gone before. They chase perfection to encourage the aspirations of those players that will come after, knowing that their performances here are connected to evrything that will be the Georgetown tradition.
Georgetown athletes are bound by a common committment. They compete to win, yet understand the real rewards come from the doing; the pride lies in the process. They have high expectations to live up to. Still, none could be higher than the ones that they have for themselves.
Basketball is part of the whole that makes the tradition. If you choose to become a Lady Eagle, you inherit the expectayion and the commitment. If you wear the blue and white, you go to the floor after every loose ball. You play defense and you run the floor. You compete. You learn and you laugh and you work and you play with a passion that makes you perform like a champion.
Being a Georgetown Lady Eagle is an all-time thing. It's what you do, where you go, and who you are. And it's a forever family.
LADY EAGLE BASKETBALL NEWS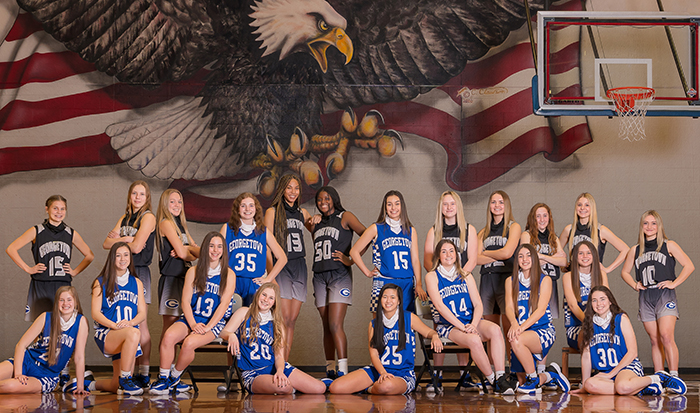 Three Georgetown Lady Eagles have been honored by the Texas Association of Basketball Coaches for their roles in coach Rhonda Farney's squad's 26-5 trip to the Region IV-5A championship game. Senior point guard Graci Harris was named to the TABC's 5A All-State Team...
read more
PROGRAM AND BOOSTER UPDATES

Special "thank you" to Mike Rainey and his staff at Crossfit 355 for taking the time to help our players increase their weight lifting IQ as well as their weight room fundamentals.  No doubt, it will transfer to a better performance on the court.
read more