HEAD COACH: RHONDA FARNEY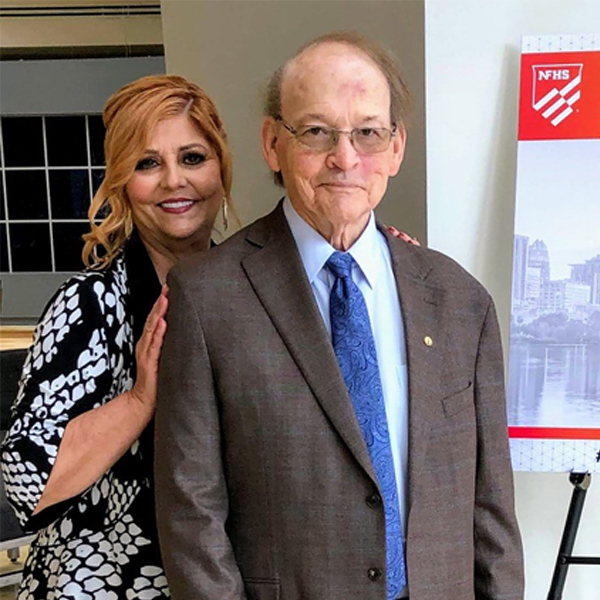 RHONDA FARNEY, HEAD GIRLS BASKETBALL COACH (Girls athletics coordinator)
Georgetown High School girls basketball coach and girls athletics coordinator Rhonda Farney has the most career victories of any active coach in the nation with 1,209 wins, giving her a career winning percentage of .779 with only 342 losses in 1,551 games. Farney reached the 1,200-win milestone on January 15 of last season with a 19-point victory over Marble Falls.
Her victory total lists her sixth all-time on the national listing compiled by the National Federation of High Schools and fifth all-time in Texas history on the records compiled by the Texas Girls Coaches Association. Both the NFHS and the TGCA recognize Leta Andrews (Gustine, Comanche, Corpus Christi Calallen and Granbury), 1,416-355, and Joe Lombard (Nazareth and Canyon), 1,344-124, as the coaches with the most career wins nationally and in Texas.
In the pandemic-marred 2020-21 season the Lady Eagles posted a 26-5 record, finishing as the runners-up in Region IV-5A and second in District 25-5A. Three of Georgetown's losses were to eventual state champion Cedar Park. The Lady Timberwolves and Lady Eagles are again expected to be the prime contenders in 25-5A this season, but Farney expects a more-balanced and challenging district race.
She will be working with a reconstructed coaching staff this season with two former Georgetown athletes–Jaron Vierra and Nicole Coronado Zavala–moving in as varsity assistants and Freshman Blue and White teams, respectively. Third-year staffer Corey Cunningham returns as a varsity assistant and JV coach.
Farney, entering her 46rh season as a girls basketball coach, has been a dominant presence in her first 33 seasons at the Lady Eagles' helm. Her GHS teams are working on a streak of 31 straight trips to the University Interscholastic League playoffs and 32 consecutive campaigns with 20 or more victories. Her Georgetown teams have made seven appearances in the UIL State Tournament and claimed the 4A state championship in 2012-2013 that was climaxed by a come-from-behind 65-60 victory over Dallas Lincoln in the title contest to finish with a 34-4 record.
Ten of Farney's Georgetown teams have won 30 or more games in a season.
The Howard Payne graduate also served as head basketball coach at Goldthwaite and Ozona prior to coming to Georgetown. She had a 279-49 record at Goldthwaite (1975-85) and was 14-35 in two seasons (1986-87) at Ozona.
Farney has had more than 80 former players compete on the collegiate level and more than 50 go into coaching.
As a leader, Farney has served as President of the Texas Girls Coaches Association and as first female President of TABC. In addition, she served nationally on the National Federation of State High School Association Board of Directors and NFHS Basketball Rules Committee.
Farney has earned numerous coaching honors, including being named the NFHS 2013 National Coach of the Year, Women's Basketball Coaches Association 2017 Pat Summitt National Coach of the Year, induction into the Texas Basketball Hall of Fame, TGCA Hall of Fame, and Howard Payne University Athletic Hall of Fame and served as a head coach for the 2003 WBCA/Nike All-America Game in Hartford, CN., in addition to being active in USA Basketball on both the coaching and committee levels.
She is married to Dr. Bill Farney, former executive director and athletic director of the UIL.